Your eyes are an important part of your body - continued visual enjoyment of the things you love requires keeping your eyes as healthy as possible. Periodic eye exams are a necessary step toward eye health. Many times eye and vision problems will have no obvious signs or symptoms, so how would you know if something was wrong?
More than 3 million Americans over the age of 40 have some form of vision impairment. As you age, eye diseases such as macular degeneration, a slow progression disease, may not be detected without an eye exam.
Macular pigment, made up of two carotenoids, lutein and zeaxanthin, plays a critical role in protecting the macula from harmful blue light put off by computer, phone and tablet screens.Should you experience eye fatigue, straining, poor night vision during those evening games, try taking eye vitamins to improve your macular health.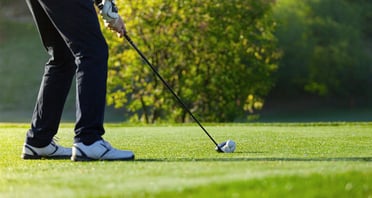 How do these prevention methods impact your golf game?
Whether you're playing for leisure, playing a "friendly game" against that friend who always brags that he's better at golfing or playing to benefit a charity, vision is an important element in how well you play your sport.
If you are experiencing any of these issues during your sport, you may have an underlying vision disorder;
Hand and feet coordination issues
Difficulty tracking the ball as it leaves the racquet
Seeing the direction in which you are hitting the golf ball
It is suggested that adults, age 40 and over, have an eye exam once a year. Examinations may include a computerized, advanced diagnostic test to accurately determine visual responses and map eye tracking abilities.